Non Surgical Hair Replacement For Men In Delhi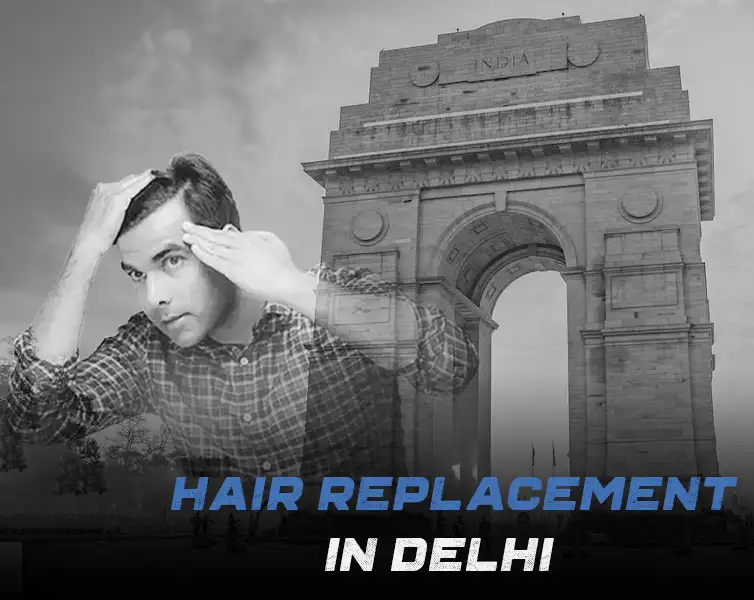 Hair Patches & Wigs For Men In Delhi
Our non-surgical hair replacement systems are designed to provide a natural, realistic look. They are made of high-quality human hair and can be custom-fit to match your existing hair color, texture, and density. Our hair patches, on the other hand, are a quick and easy solution for those experiencing hair loss in specific areas of the scalp. Our clip-on hair systems are a great alternative for those who don't want to commit to a permanent hair replacement solution.
At American Hairline, we pride ourselves on our commitment to providing the highest level of customer service and satisfaction. Our team of expert stylists and technicians will work with you to find the perfect solution for your hair loss needs. We use the latest techniques and technologies to ensure that our hair replacement systems look and feel as natural as possible.
We invite you to consult our experts  and experience the difference that American Hairline can make for your hair. Our hsir sysytem specialists and knowledgeable staff is always available to answer any questions you may have and help you find the perfect solution for your hair loss needs.
Don't let hair loss hold you back any longer. Contact American Hairline today and schedule your consultation. We look forward to helping you achieve the look you've always wanted. With our non-surgical hair replacement and hair patch solutions, you can have the full head of hair you've always wanted, and regain your confidence
Secret to Natural
Looking Hair
Important factors that make a Hair system look natural are :-
1. Density 
Unfortunately most units in India are high in density which makes it look completely artificial. We, design low density units which looks more real and blends beautifully with your natural hair on the sides and back.
2. Front hairline :
Thinnest base , gradual density , low density , invisible knots ,knotting technique and using thin strands in the front makes extremely natural hair patches for men.
3. Hair cut blending :
15 years of experience has helped us master the technique of cutting and texturizing the hair in such a way that even if you are not in front of us , we can still manage to give you ready-to-wear hair systems/natural looking wigs , which will blend beautifully.
4. Appropriate hairstyles :
Short & simple hairstyle is easily manageable . Since you have lost a lot of hair on top , adding a lot of hair( on top ) , may not not be a good option . We suggest taking one step at a time and gradually increasing the density. Your first natural looking wig/ hair system should be light in density 

Why choose
American
Hairline?
&nbsp&nbspISO Certified
The Only ISO Certified hair system company in india to Guarantee You Quality

&nbsp&nbspReady to Wear
Completely Styled and Cut Ready To Wear hair system delivered at your Doorstep.

&nbsp&nbsp100% Human Hair
We use the highest quality Real Human Remy Hair on our Hair-systems to ensure you get 100% natural looking system 

&nbsp&nbsp Fully Customizable
Only brand in india who Customise - Density, Hair color, Texture, Base Shape, bleach knots, Hairline, Implant direction, Base type & Transitional density

&nbsp&nbspSingle Strand Implant
We implant One Strand at a Time. just like how our natural hair grows, giving you the Flexibility to Part Your Hair the way you want.

&nbsp&nbspCustomer Support
We implant One Strand at a Time. just like how our natural hair grows, giving you the Flexibility to Part Your Hair the way you want.

&nbsp&nbspAccess to Educational Videos
We provide Learning videos which are of Great help. You will need to learn quite a few things at the initial stage which will help ypu Start off Smoothly.
&nbsp&nbspEMI Options
You can choose between Easy Emi starting from approx 2500-3000 / month with Tenure option up top approx 8 months.
&nbsp&nbspCertified by American
We have been Certified bt American board of Accredition Services for providing High Quality hair system
&nbsp&nbspOrder Online
Online ordering process makes it Easier to Order out of the Comfort of your own home.

&nbsp&nbspAffordable
Since we are mainly an online platform, we can afford to sell the Most Expensive hair systems at Affordable Prices.
&nbsp&nbspCertified by AIAO-Bar
We are certified by American International Accreditation Organization
We specialize
in customisations
The best human hair wigs are customized hair systems as they can be designed from scratch to match your natural hair .
If you are looking for the best option for yourself in hair systems and if time and cost is not a major concern, then fully customized hair systems would be the best option for you .
We customise :
1 . Density
2 . Hair color
3 . Hair texture
4 . Base shape .
5 . Base material
6 . Hairline shape
7 . Diameter of each strand
8 . Front hairline
9 . Hair style
10 . Hair Implant Direction

What is Non-surgical Hair Replacement?
Non-surgical Hair Replacement is a cosmetic procedure that involves placing a hair piece, also known as hair patch, on the scalp to cover up balding or thinning areas.
Is Non-surgical Hair Replacement suitable for everyone?
It depends on the individual's hair loss pattern, scalp condition, and personal preferences. A hair specialist can assess your scalp and recommend the best hair replacement solution for you.
Clip on and stick On are 2 options available for you wear the hair system.
How long does a Non-surgical Hair Replacement last?
The lifespan of a hair patch depends on factors such as the quality of the hair piece, the frequency of wear, and the care and maintenance provided. On average, a thin base hair patch can last up to 3 to 4 months with proper care and a thicker one may last for 6 to 8 months.
Is Non-surgical Hair Replacement painful?
No, Non-surgical Hair Replacement is a non-invasive and pain-free procedure. There may be some slight discomfort during the fitting process, but this is typically minimal and short-lived.
Can I style my hair as normal with a Non-surgical Hair Replacement?
Yes, you can style your hair as normal with a Non-surgical Hair Replacement. You can even swim, exercise, and participate in other physical activities with proper care.
How much does Non-surgical Hair Replacement cost at American Hairline in Delhi?
The cost of Non-surgical Hair Replacement at American Hairline in Delhi can vary depending on factors such as the type of hair piece, the extent of the hair loss, and the customization of the hair. A hair specialist can provide a more accurate estimate after assessing your scalp. However, our units starts from Rs.29,900 onwards.
Where can I find American Hairline, a reliable Non-surgical Hair Replacement clinic in Delhi?
American Hairline is a reputable Non-surgical Hair Replacement clinic in Delhi that offers high-quality services.
We do visit Delhi once a month.
We have our technicians how can get the servicing done for you.
To find out the dates and book a consultation, you can call or WhatsApp us on +919222666111.
Consult with one of our hair replacement experts in Kolkata & gain more clarity about hair systems & hair patch for men.